About six months ago, after the thrill of Antarctica had settled down and wanderlust had again taken hold, Mindy, Shannon and I had a phone call to discuss potential destinations over Thanksgiving week. We had four requirements for this destination:
1) None of us had ever been there
2) Passport was required
3) The plane ticket had to be less than $400 round trip
4) The plane ride that was feasible for a one-week trip
During that phone call we each opened a separate travel website and began plugging in locations: San Salvador, Honduras, Bogotá, Managua. The latter gave us the best price, so we settled on a week in Nicaragua – assuming we could find things to do. So we "slept on it" and of course booked our flights the next day and began our research: volcanoes, rain forests, diving, and food.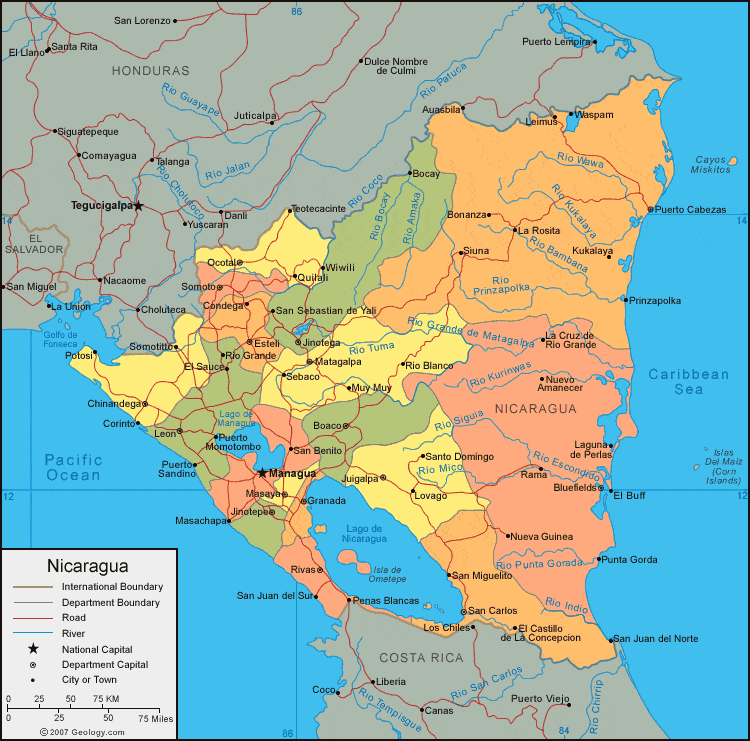 Busy planning their excursions
Mindy and I caught a 7:30 AM flight (oy!) to Miami where we met Shannon (who had caught a double-oy 6:10AM flight) and then boarded our plane to Managua. The flight was uneventful and quick – only 2.5 hours from Miami. We walked out of the Managua airport to meet Gilberto, our driver from the Hotel Dario in Granada.
Granada
Granada was a 45 minute drive from the Managua airport (note that we never stepped foot into Managua proper – so we never got the chance to photograph all the riots from the previous week) and our Hotel Dario was a little oasis off the streets behind the Cathedral. A Christmas tree graced the lobby and a fountain in the little courtyard; our room was upstairs with three comfortable beds. For the bargain price we were paying it was much more than we ever expected.

Shannon and Mindy at the Hotel Dario
By the time we unpacked and cleaned up, it was almost 5:00: Happy Hour. We grabbed a table outside the cute hotel café on the cobblestone street Calle El Arsenal to enjoy mojitos and margaritas with cheese as the sun set overhead. Little boys ran around performing for the smattering of touristas and asking money for their cartwheels. Later we wandered around the Parque Central and the booths set up with food, jewelry, and pots for sale, but by this time it was dark and time for us to head to safer locations. Namely, dinner.

Calle El Arsenal
El Zaguan
Touted to be "the best restaurant in town" (which isn't saying much in this small ville), El Zaguan had choices of grilled meats and mariachi trios. We ordered a bottle of Malbec and Paradilla as a nod to our Argentinian loves.

Shannon with the wine

Mmmmmm… paradilla

Shannon, Me, and Mindy at dinner
Our table was near the door and, as we sipped our red wines, a number of interesting sights walked by. One was a person with a large – how to describe this… – puppet sitting on their shoulders. But the puppeteer himself was covered by the dress of the puppet, so it really looked like a very tall and very fake person. They spun around and around so the puppet arms flung wide and filled the doorway with color and flash. A few people got up to enjoy the show and provide a tip, but soon they went away.
Not long after we could hear the beat of loud music coming closer. I should mention here that Nicaraguans love their music VERY LOUD. To the point that, when we arrived earlier to the hotel, parked across the street was a pick up truck with easily three massive speakers set up in back and whose sole purpose of being there was to pollute the area with outrageous base. So it didn't surprise us that another speaker-laden truck was arriving. What did surprise us was that this was actually a beer truck with speakers so loud that we couldn't hear each other speak.
But wait. That's not all.
Behind the beer truck was a parade full of horses and their cowboys. Prancing horses, no less. As the beer truck moved on, the horses pranced and danced and trotted by in and endless stream of saddles. Each cowboy wore a number as if this was some sort of competition. We found them later on Calle El Arsenal and – as a nearby band played music – the horses would actually dance by.
Shannon said "Tennessee Walkers" are miserably abused so they "prance" like these horses, and the knowledge of this abuse takes away any enjoyment of the show. Much like the elephant shows in Thailand or the "dancing bears" in India. You just don't want to know about it.
We'd each been up since at least 4:30AM and were dragging our feet, so we rationalized our early bedtime with needed rest for the next big day.

Mindy in the room, getting ready for bed