Our room was unbearably hot and stuffy that first night, but the next morning Shannon discovered that the radiator wasn't only a radiator but also a ventilation system that piped fresh air into the room. We gave a great sigh of relief since we knew the other nights would be much more comfortable. And since we were showing no signs of sea-sickness we were even happier.
Boat Lectures
To fill our time on the Drake Passage the GAP expedition team organzied a slew of lectures by our experts. One was by an ornithologist named Heidi (of all names) who talked us through the different species of Albatross and other birds. After lunch was a lecture by a marine biologist named Shannon (oh, the irony) who taught about seals and the evolution / differences between them. And later in the afternoon we had a lecture by Barbara about "Beauty and the Beast" – icebergs. I also listened to Heidi's informal briefing on "how to use your binoculars" since I've really never known. The irony around me listening to the briefing was that I'd left my binocs in my linen closet in New York, but hopefully will never make that mistake again.

Heidi (not yours truly) and the birdies

Barbara's iceberg lecture – "Ice is nice!"
Passing Time on the Drake Passage
The rest of the day was spent in the boat looking out the windows or bundled up outside looking at the sea. Mindy was dying to see whales and Shannon wanted to keep track of the birds she spotted. I was happy to see all of the above and was just delighted to be on our way.

Mindy and Shannon, layered up and looking for wildlife

A bird! A bird!
We quickly evolved into a mentality of "cool things to see" and picking peoples' brains for who has seen what and when. After Heidi's bird lecture, we were especially focused on bird identification. After Shannon's seal lecture, we really wanted to see both sea and fur lions. And Barbara's iceberg talk made us want to see "red snow" or the slightly-rare "tabular berg". Conversations at the lunch / dinner tables shifted from "where are you from" to "what have you seen?"
I remember this happening in Cocos, too, though those inventories were about sharks, manta rays, and whale sharks, but half the fun is getting caught up in who's seen what and when. Our first sighting of a wandering albatross out the dining room window was an exciting moment. If someone had told me a week before that little would matter aside from spotting a cape petrel I would have thought they were crazy. I was delighted by the drastic switch from deadlines in the financial world to milestones of bird watching.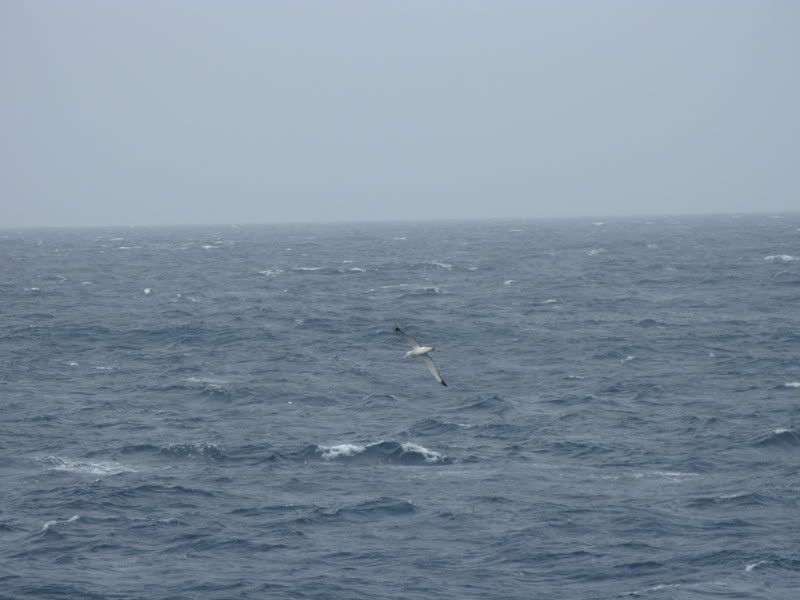 A wandering albatross (pic by Mindy)
Evening Entertainment
We gathered in the lounge for a "briefing" that included a demonstration by Heidi – the ornithologist – displaying exactly how big an albatross's wingspan could be. She held up a string and stretched it across the entire room for 3.5 meters. The group gasped collectively at how much smaller the birds look on the ocean but how large they truly are.
Heidi also told us that overnight we'd move into the
Convergence
which is a shallower part of the ocean that brings a wonderful collection of birds.
We simply can't wait for all the wildlife to arrive.
After dinner with gathered for a movie in the lounge; "The Blue Planet" episode of Arctic life. The show started in the northern arctic and ended in Antarctica, and the excitement in the room was electric – we're looking forward to our first landing on the White Continent. Especially when our expedition leader Stephen announced that the powerful tailwinds were moving us an extra knot per hour, so there was a chance we'd arrive earlier than planned and could do an evening excursion the next day. Definitely reason to celebrate.
The five of us – Mindy, Shannon, Janine, Harry and I – toasted our third bottle of wine in support of the idea. (We only brought 12 bottles between us… at some point we knew we'd have to start buying the ship's slightly overpriced bottles to support our wine celebrations.)