The flight was uneventful and we arrived in Buenos Aires relatively on time and super hot since the weather was a muggy 90 degrees. We found Shannon in the hotel lobby – the Hotel Rochester – who told us the desk staff apparently had difficulties determining which room was which, so they encouraged us to "have a drink at the bar" while they sorted it all out. Slightly annoying since we wanted to shower off the airplane, but it gave us a chance to catch up and to plan the few hours we had for little sight-seeing and a bit of shopping.
Our Fourth Roommate
Because we were three we knew one of us would be rooming with a fourth person, so we decided to split up the rooming in three chunks: BA, Ushuaia, and the Polaris. The Polaris of course being the longest so for that we played "rock paper scissors" to fairly determine who would room with whom. Mindy will have our fourth roommate on the boat, and Shannon and I will stay with her on land. So my roommate for the night was Janine, who comes from Phoenix and who arrived in BA the night before. We talked her into wandering the city (though she'd already been there for a day) and off we went.
Buenos Aires
BA is considered "The Paris of South America" because of its culture, its cuisine, and most importantly its architecture. The stonework and wrought iron of the buildings had a definite European feel to it and there were times I would almost forget where we were. Except that it was 90 degrees and we were in tank shirts and skirts.
We wandered along "Florida Avenue", a pedestrian street filled with shops, restaurants, and cafes. The goal in mind was a bag store called Prune which came highly recommended and, since Argentina is known for its leather, seemed an appropriate way to pass the two hours we had until we met the rest of our group for a briefing. I treated myself to two bags and a pair of sunglasses (okay…. Not leather, but go with me) and Shannon got two bags as well.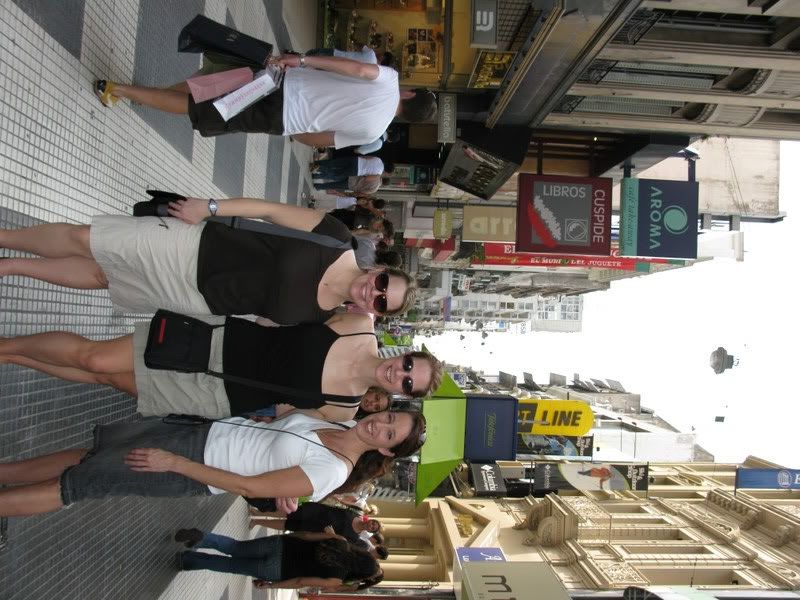 Shannon, me, and Mindy
We stopped in a little sandwich shop for bite to eat since dinner wouldn't be for a few more hours. Then walked through San Martin's square before heading back to the hotel to shower off the airplane ride and put on fresh clothes.

Gorgeous architecture
The Group
We arranged this entire trip through
GAP Adventures
, a tour company that specializes in culture-rich backpacking trips. So it's not first-class travel (which we don't want because that tends to insulate from the culture of the region) but GAP straddles a great line between comfort and local flair.
Our leader, Daniel, met us in the lobby along with four other women and one man:
Harry from Vancouver
Chris from London
Valerie from Vancouver
Fran from Vancouver
Diane from Toronto
Janine from Phoenix
Shannon from Charlotte
Mindy and me from NYC
Since the boat held 68 people, I assumed there were more travelers who would meet us in Ushuaia. After a brief get-to-know-each-other chat, Daniel shared some of the logistics of the next few days: flying to Ushuaia, free time, boarding the boat, and traveling to Antarctica. The biggest concern on our minds was the flight to Ushuaia and the weight limits on the airplane, but we'd work that out the next day.
Argentinean Dinner
Daniel walked us a few kilometers through the streets of Buenos Aires, pointing out significant buildings and historical facts here and there. The architecture was so stunning and more than once I had to stop to give myself time to look, or else I would have wandered off a curb and into traffic.
 The streets of Buenos Aires

Ornate doorway

Me and Shannon (pic by Mindy)
Our cross-city trek (Me to Chris: "Are we walking to Chile?") ended at a restaurant (whose name I can't remember) where we had a large table and filled it with Argentinean wines. Because the restaurant specialized in meats we opted for the "sampler" of multiple courses of ribs, flank, and tenderloin.
Huge spits of meat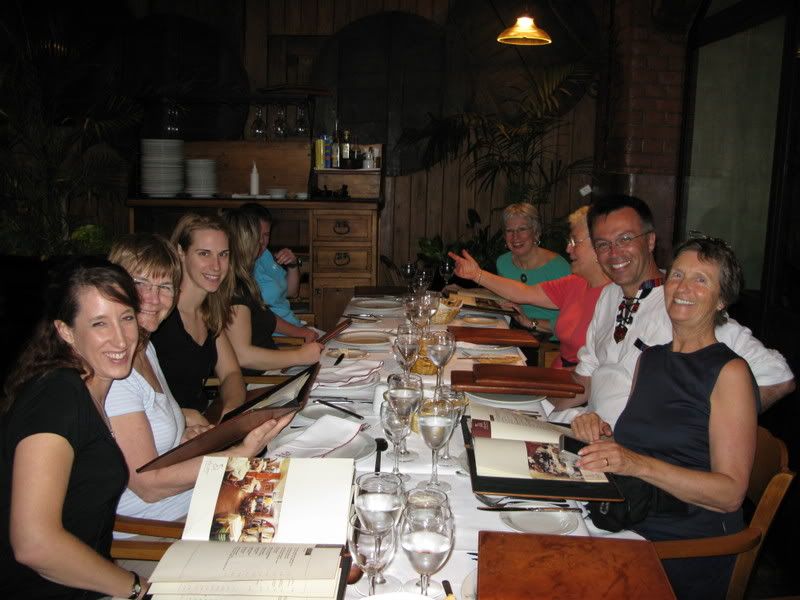 The group
Between the massive heapings of meat and the onset of jetlag, we started to drag after a few hours. So as soon as the check was delivered much of the group opted for a taxi ride home and sleep.