Not only was this day stunning, but it was also Culture on Crack. We woke up exceptionally early to catch an 8AM ferry ride to Colonia, Uruguay – which was unfortunately the only ferry time we could reserve yesterday but in hindsight was not such a bad thing since it dragged us early out of bed for what would be an exceptional day.

Sunrise over Buenos Aires
Ferrylineas to Colonia
We took the one-hour high speed ferry from the Buquebus port of Buenos Aires to Colonia, a quaint, charming cobble-stone street town on the coast of Uruguay just on the other side of the Rio de la Plata. The sun was out, the sky was clear, and we were ready to explore.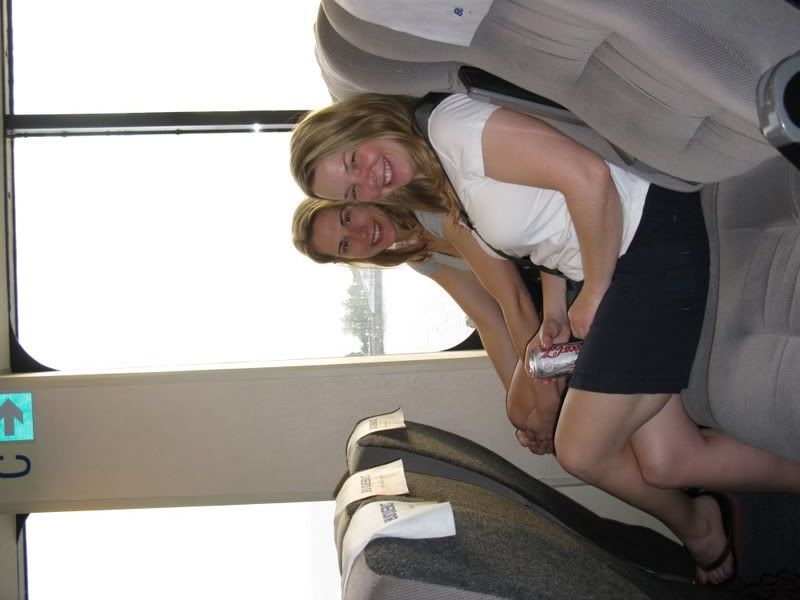 Heidi and Shannon on the ferry (pic by Mindy)
We weren't entirely certain where to go once we got off the ferry, but instincts took us in the right direction and we ended up in the Old Towne of Colonia, where a lovely woman at the Information office gave a us a map and sent us on our way.

Mindy and Shannon on a cobble-stoned Colonia street

Pretty doorway

Cobblestones

Cool web

Lighthouse and ruins
We only had a few hours since our return ferry ticket was at noon, so we walked in the nooks and crannies and took in culture wherever we could. Colonia is a stunning little area with character and charm, and I'd love to go back someday when I can rent a little villa and explore at my leisure. None of the museums opened until 11:00 so we didn't get all the culture we would have liked, but we made up for it by finding two little old ladies in their front yard crocheting sweaters, which of course we had to buy.

Colonia coastline

Colonia marina

Little Old Knitting Lady
At 11:15 we turned to walk back to the ferry and were on the lookout for lunch options which we could take on the ferry, but most were full-scale restaurants that didn't have the option of take-away. We were resigned to starving for another hour until we got back to BA when Mindy said, "If only we could find some empanada place." We rounded the corner and there, like a religious Mecca, was a glorious empanada spot with a lovely woman who helped us through our troubled Spanish for six varieties of slightly cold empanadas for the ride home.

Empanada Mecca
Recoleta
Back in BA we took a taxi to Recoleta, the gorgeous upscale area of the city and also where the famous Recoleta Cemetary was located. Evita was buried there so of course that was the first spot we visited.

Outside the cemetery

Evita's Tomb

Lovely

Alleys and alleys of old, ornate crypts
Who knew a cemetery could be so beautiful and interesting? We put away the map and wandered aimlessly, getting "lost" among the alleys and crypts and taking photos of the gorgeous architecture. Some of the crypts were very old and looked as though no one had touched them in years. Others were very well maintained. Looking up into one of them I joked to Mindy and Shannon, "When you build my crypt, I'd like a skylight."

Skylight

Shannon added, "I want a stain glass window, but it has to be where the sun shines through."

Mindy, looking as these flowers, added "And only real flowers, please. No artificial ones."
This started a hilarious game of pinpointing our crypt specifications via Recoleta examples:

Must have running water

Must have marble Angels

Must be bigger than our current apartments

Must be actively maintained / cleaned – cobwebs were deemed "unacceptable"

No astroturf, please

No gaudy ornaments or blatantly overdone decoration… or outlines of dead bodies

Roman numerals "because they make people have to think really really hard"

No statues of us in (a) our bathrobes or (b) suckling our child(ren) — this one, courtesy of Mindy, made me laugh out loud. Probably not the proper thing to do in a cemetery. But I'm an American. I claim crassness by default.
We also agreed "no weaponry", and I particularly liked a crypt with a ventilation system which I translated into "air conditioning". Because it's important to be cool – especially if I'm going to hell. So there are all our specifications for our ideal crypts. The irony of our tomb-planning is that we each plan to be cremated so having a crypt is slightly redundant. But since we were on the subject, we laughingly shared our cremation plans. We're all about thinking of other people:
Shannon wants to be created and planted with a tree, though she said that the crypt can be nearby the tree if that makes it easier for us to visit both places at once. (isn't that thoughtful?)
Mindy would like to be cremated, kept in an urn, and passed around from friend to friend so that everyone has to take care of her. She pointed out that – if its more convenient – we can split her up into different containers to pass around. As long as it's still all about her.
And I would like to be cremated and scattered at sea.
Shannon: "Which sea?"
Me: "Uh, I don't know. I'll leave it up to you."
Shannon: "Somewhere in Antarctica?"
Me: "If you can sneak me past the conservationalists, yeah!"
Mindy: *pausing… pouting slightly* "Can't you choose somewhere we haven't been yet?"
Avenida Alvear
We left the cemetery for a walk up Avenida Alvear – one of the gorgeous roads in the Recoleta neighborhood – but before we got there we were distracted by the fabulous temptations of Argentina's smoothie/ice cream chain Freddo.

Yumminess
Shan had an ice cream in a waffle cup, Mindy had a fruit smoothie, and I had a chocolate/banana shake. With our frosty goodness we strolled up Avenida Alvear, admiring the gorgeous apartment buildings and upscale stores in the lovely sunlight.

Apartments

Ornateness
When we reached the huge 9 de Julio avenue, we wanted to walk through the tree-lined pedestrian walkways that paralleled the avenue but they were covered by construction walls. So instead we hailed a taxi for our next stop: Palermo SoHo.
Palermo SoHo
This area of BA is a collection of little boutique shops, eclectic restaurants, and quaint apartment buildings. We came with a serious goal in mind: to shop! Our first stop was Rhapsodia, a well-known trendy shop in BA that we'd heard about – especially the jeans. Though our visit was highly anticipated, the experience was not so much. The girls who worked there weren't interested in helping us find our sizes (helloooooo… we had pesos to spend!) and so we unfortunately left with little purchases. But the rest of Palermo redeemed the shopping experience. We loved wandering into a little store and finding special gems that we would never buy anywhere else. In NYC the little boutiques are usually super expensive, but in BA these little designer owned stores were full of charming discoveries. We were quite happy with ourselves.
Tango Show
The group's final get-together and farewell dinner at a tango establishment. We had a lesson that was taught in both English and Spanish and was heaps of fun. Tough to do in the little flip-flop heels I wore but the teacher was a good one. So good, in fact, that the group switched partners and roles and still did well.

Mindy dancing with Harry

The group dancing
After the lesson we went up a flight of stairs for dinner and a tango show performed by a group of six dancers, two singers, and a four-piece Argentinean band. The dancers were spectacular and I really enjoyed watching the tango moves danced by professionals. Each of the routines had a drama around it – a man late to meet his date; a woman torn between two men; etc – and each captured the passionate responses that's indicative of a stereotypical Latin relationship. Combined with the dancing it was even more passionate.

Tango dancers
I really enjoyed watching it, but part of me also felt sorry for the performers – dancing in front of an audience of tourists who filled maybe 30% of the room. But they performed well enough that they seemed to enjoy it.
It was late when we got back to the room, and we crawled into bed and went fast asleep.
As an aside, we busied ourselves on the ferry by making a list of where else we want to go over the next few years. It's not for the faint-hearted, our list, and it looks like our next few years of vacations are accounted for.
* Croatia
* Syria
* Cambodia
* Australia
* New Zealand
* Mt Kailash
* Nepal trekking
* Everest base camp
* Patagonia
* Myanmar
* Artic
* Easter Island / Tahiti
* Uzbekistan
* Russia