The Background:
I met my friend Liz in 2004 during a memoir writing class.  Since then, we've bonded about families, boys, running, books, relationships, cupcakes, and life.  Liz has become a wonderful friend and as hungry for adventure as I am.  This is our Galapagos Adventure.
Quito:
We flew in separately the day and night before and reuned in our hotel room in Quito – the Hotel Sierra Madre. We live 12 blocks apart in New York City but I hadn't seen her since February because of our work travels. Funny that we had to go to a different continent to see each other.
We had a day in Quito to explore before meeting our Active SA tour group for dinner. So we decided a leisurely sightseeing day was on order. After sleeping in just a bit (hooray vacation!) we walked into the Mariscal district for brunch at the Magic Bean restaurant; a nice place with "proper" breakfast. They played country music and the waiters had Shel Silverstein quotes on their t shirts. Not really a "local" place, but it hit the spot.
Liz and I hailed a taxi to the Capilla del Hombre, a modern art museum on the outskirts of Quito (or at least the outskirts of our map). It was a gorgeous space; cavernous and stark but somehow still warm. The exhibit was entirely full of Eucadorian artist Oswaldo Guayasamín whose paintings were a mixture of misery and happiness – depending on the painting. And the space allowed for the huge size of the paintings. Some reminded me of Picasso's La Guernica with their length and coloring.  But different. Photos weren't allowed, but here are some other pictures of Guayasamín's work: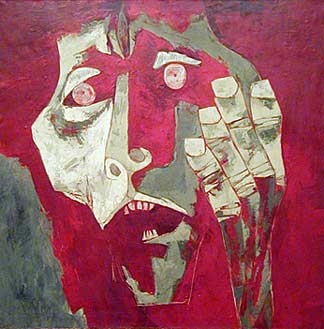 We also walked up the hill to what appeared to be a private residence but was really a showcase for some sculptures and a few old cars. Odd, but it made for some fun pictures.
Car ornament
Next stop was into Quito's old town. We wandered around the Basillica and took pics, the wandered onto the Plaza Grande.
Soon the altitude (10K ft) had kicked and made us especially exhausted, so we caught taxis back to Mariscal and ate lunch at a sandwich shop. the. Back to the room for a "siesta". I figured I'd take a quick 20 minute power nap, and next thing I knew it was 3 hours later.  One more time: yay vacation!
Dinner with Active South America:
In the lobby we met Nick, our Kiwi Active South America contact who gave us our briefing and would get us to the airport the next day. We also met the rest of the group:
Amanda – a Brit who lives in New Zealand and who works for active SA but is on holiday in SA for the next 3 months
Lina – a Kiwi who works with and is friends with Amanda.  They're traveling together.
Rahana – a filmmaker from the UK
Trish – a math"s" (that's pural) teacher from the UK
Jocelyn (aka Fany) – a sunny and smart 16 yr old from Ireland but who was born in France
Paola – Jocelyn's father's work colleague who suggested to Jocelyn that they go to the Galapagos together
Sara – A well-traveled German who's spent many years in Hong Kong
Gail and Dennis – a retired couple from Los Angeles
For dinner we ate at Estacion, a restaurant in the Mariscal that offers Ecuadorian cuisine. It was a great dinner and a nice way to get to know the group. I had the chicken stew, which of course had a local name but I have no idea what it was.  The amusing part of the evening was that our restaurant was located right across the street from a bar called The Dirty Sanchez.  This, of course, is where Liz checked us in on Facebook.
After dinner we were back at the hotel to repack our belongings into our official matching SA Aventures bags and to leave our extra luggage at the hotel.  Then to sleep. I was surprisingly tired for someone who took a 3 hour nap earlier that afternoon.